back in the day
17/Oct/10 10:08
In more Venus-retrograde news, Pope Benedict XVI canonized Mary McKillop, an Australian nun. Among her many accomplishments, McKillop was noted for exposing the "scandalous behavior" of a local priest. At the time, she was excommunicated for five months, but was allowed back into the church, where she was apparently a real challenge to authority.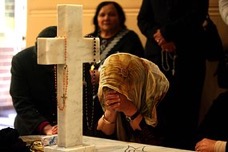 It's nice to see that the Pope is doing something to recognize abuse in the church and to ratify the role of whistleblowers.
McKillop died in 1909.