a very long hot summer
09/Aug/10 09:18
Last week's planetary activity was highlighted by a Jupiter-Pluto square on the 3rd, triggered a day later by Mars aspecting each of those two planets. Looking around the world at the places where the aspects were "angular" (on the horizon, or overhead), we can see that it is indeed a long, hot summer. The position of the sun at the time of these aspects also seems to be very relevant, especially as "heat" is the theme this summer.
Los Angeles and Moscow are battling fires. A 14 year-old boy is accused of setting a wildfire near Los Angeles. The Associated Press reports that 700 people per day are dying of the Moscow fires and their acrid smoke. The political fallout might work its way all the way up to Vladamir Putin, who - like Obama with the Gulf oil spill - could wind up taking the heat for not having superhuman capabilities against the forces of nature.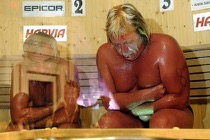 To add absurdity to tragedy - and more tragedy - a contestant in a sauna context died in Finland. The man had been a room at a temperature of about 230 degrees Fahrenheit (18 degrees above the temperature at which water boils) for about six minutes. There is something very Superhero (or Arch-villain) about Jupiter/Pluto. More power is demanded...
Colombia and Venezuela had the square angular - more directly than Finland - and indeed, Venezuelan President Chavez has urged Colombian rebels to put down their arms. He's afraid they will be perceived as forces in line with Venezuela. Of course, if they listen to him...
Finally, Haiti had Uranus angular at the aspect, and the sun angular when Mars triggered it a day later. Wyclef Jean, of the Fugees, is running for president, a job that one must really
want
to have.
It's a hot summer, and the theme seems to be about getting burned...