truth or dare
08/Jun/10 08:49
With Jupiter newly in Aries and the conjunction with Aries today, we are seeing a strong pull towards rebellion... and also clearing up some old business...
A great example of the rebelliousness and rogue activity of Uranus in Aries can be seen in the case of Army Specialist Bradford Manning, who leaked information to Wikileaks, including videos of US helicopter strikes that killed civilians (including a Reuters employee...
Click here for the full story
).
The combination of going off the grid (by leaking information) and doing so with technology (Wikileaks) is perfect symbolism for Uranus/Jupiter, which often has to do with new technological innovations (the iphone 4 is due out, but I'm not sure this is on par with the moon landing). That it is happening in Aries shows the go-your-own-way mentality at its strongest.
If the system isn't working, we'll have to find a way around it. Rules matter less at times like these, for better or worse. We can see the stubborn refusal of the system to change in the ordeal of Armando Gallaraga's almost no-hitter and Bud Selig's refusal to reverse the call. The guardians of the system are scared in such times...
Television gives us an instant replay on the umpire's decision -whether or not Major League Baseball wants to admit it. Specialist Manning gave us an instant replay on an action in Iraq, whether or not the Army wants to admit it. In both cases, the system ain't moving... at least not yet, and not under it's own steam.
Sometimes we're gonna cheer those who break the rules and take matters into their own hands, and sometimes we're gonna be upset. Here's a clue - are they giving us information, or blowing us up to get their message across?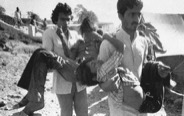 In an almost-related story, Union Carbide employees were sentenced for negligence in the 1984 Bhopal disaster, which killed thousands. At the time of the accident, Neptune (which rules gasses) was on the "World Axis" at 0 degrees of Capricorn (which rules business and institutions). Now, Jupiter and Uranus are square to that position of Neptune at 0 degrees of Aries. Predictably, it is the reaction to the light sentences which have been the center of attention. Justice delayed is justice denied.... so what do you do when the system isn't working....