foggy with a chance of showers
06/Nov/10 07:30
Haiti was shaken by the Uranus station back in January, and the temporary shelters (at this point perhaps a bit less than temporary) have been threatened by Hurricane Tomas on this Neptune station.
Nothing is clear, as we might expect. Last night I checked Google News and read that Haiti had been spared the worst of Tomas, while today I read that floods and mudslides had killed seven people and Tomas had driven Haitians to higher ground.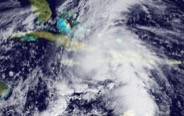 Neptune rules floods, and generally makes things unclear.
Interestingly, the other major natural disaster this week was a Plutonian volcano, Mt. Merapi, in Indonesia. Now, at his station, Neptune is angular to the east of both islands, indicating a kind of 'near miss.' But Mars is directly angular through both islands, on the midheaven in Java and on the IC in Haiti (and through the Eastern tip of Long Island). Mars is the fiery god of war, more closely linked to volcanos than floods.
In typical Neptunian fashion, even the moment of the station is hard to find, since it occurs at 1:05a Sunday. Because of the clock change, setting the hour back at 2:00a Eastern Daylight Time, there are not one but two 1:05 a.m.s tomorrow! (I verified by checking the station in Pacific time).
It has been a bad week for flying. The Mt. Merapi incident has grounded planes over Java, a plane crashed in Cuba, and a brand new Qantas Airbus A380 was forced to land in Singapore when one of its engines failed (and apparently spewed parts over Indonesia).
Perhaps this is Neptune's way of bidding farewell to Aquarius as he heads towards his home sign of Pisces in April. He will, however, station once more in Aquarius, next November.
On a personal level, this is a good weekend to chill out, space out, or freak out. But by Tuesday, things should be feeling a bit more grounded.