feeling over the hill?
20/Oct/10 10:15
More Venus retrograde news...
Apparently, over the past weekend the wife of Supreme Court Justice Clarence Thomas asked Anita Hill, now a professor of law at Brandeis University, to apologize for her remarks at the Justice's confirmation hearings back in 1991. Hill turned the voicemail message over to campus security, but apparently it is the real deal. Mrs. Thomas says she was extending an olive branch to Hill.
Hill said she has no intention of apologizing, because she testified truthfully and stands by her testimony.
Click here for the CNN story
.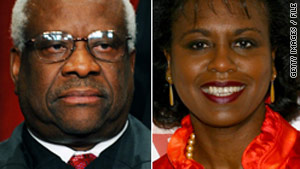 Thomas, an African-American conservative nominated by George H. W. Bush, has remained true to his ideology, with a decision record closer to what one would expect from Patrick Buchanan than Thurgood Marshall.