dark star
20/Dec/10 22:11
Tonight's full moon is already high in the sky, casting a silvery light all over Queens, New York, and I'll bet plenty of other places as well.
Today is the darkest day of the year, just before the Winter Solstice. We have less sunlight than on any other day of the year. But this year, it just so happens that the full moon falls on the same day... so while we have the least sunlight, we have the most moonlight.
Or at least we do now...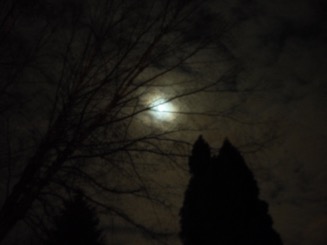 That will soon change, as the Earth passes between the sun and the moon, gradually darkening the skies. A full moon is always powerful, bringing things to light. A lunar eclipse is a supercharged full moon, one that extends the influence of the full moon both forwards and backwards in time. The solstice is a turning point, the low end of the solar year.
So, what does this very special eclipse mean, besides a little extra drama in the skies?
We'll have to see. Personally, I think that it will really set off the who's-in-charge? power struggles of Pluto in Capricorn. We may soon be waking up to find that the world is different than we have thought it to be (Wikileaks has been working on proving that to us). Although it is also a Mercury-retrograde issue, the Net Neutrality bill is in the Senate, and while it seems to offer some protection for consumers, it will also restrict wireless access to some applications... not all of your favorite websites will be available. Who's in charge?
But you can wait and see for yourself. My only observation is that the only thing that comes between the bright orange glow of the sun and the cool silvery moonlight, is the Earth.