ahoy, matey...
31/Mar/10 22:02
Remember... You heard the sad news here first...
As Uranus heads towards Aries, we are beginning to get a sense of what the planet will have to offer in the way of mass media, and, I am sorry to report, it looks like it's going to be about pirates.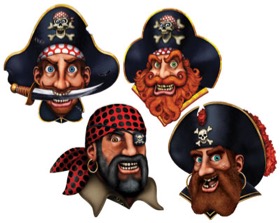 Yes, although they were wildly popular only a few years ago, it is all too apparent that the swarthy devils are making a comeback. Pirates of the Caribbean 4 (or is it 40?) will be coming out, the Tea Party is dressed in their finest eye patches, and the Food Network was featuring unshaven guys saying "Arrgh!" tonight.
Pirates are, of course, a respectable symbol for Uranus (the planet of independence) in Aries, the sign of the warrior. Not the best, and certainly not the "highest" symbol we could imagine, but appropriate on a mass media level. Pirates are independent warriors, for sure. And they are out for themselves, certainly a Uranus-in-Aries theme. The last time Uranus was in Aries, from 1927 to 1935 saw a spate of popular pirate films, including
Treasure Island
(1934) and
Captain Blood
(1935).
At best, Uranus in Aries represents what I like to call "creative selfishness" (you'll be hearing a lot more about this as time goes on), the courage and the will to follow our own star, recognizing that we can't really be there for others if we aren't first there for ourselves. But "at best" ain't always the order of the day, and the other side of Uranus in Aries can be plain old selfishness, the inability to give a hoot about who you hurt on your way to get what you want.
It won't be just about pirates. You have to allow for all kinds of updated versions of the pirate theme... in outer space, futuristic wasteland cities, and so on. But pirates.
Let's hope some of those pirates have hearts'a gold... Aarrrgghhhh....