storm warnings
03/Aug/10 09:11
Today features a major aspect between Jupiter and Pluto. Power struggles can reach phenomenal proportions, but with Jupiter in the picture, it is usually a matter of principle, at least from the perspective of the participants. Righteous anger is a potential manifestation, and that can be dangerous. After all, we can feel a bit guilty when acting out of anger, but throw in some righteousness behind it, and the temptation is to take off the gloves and really dig in.
The ongoing troubles in Pakistan and Afghanistan seem to capture some of the energy of this aspect, as they have been at the center of international news all week.
The aspect is "angular" (rising, setting, overhead) through East Asia, where it grazes the coast of Vietnam and goes through the island of Java in Indonesia, and cuts through China. It is also powerful through Central Africa and "Mittle Europa," including a line right through Warsaw.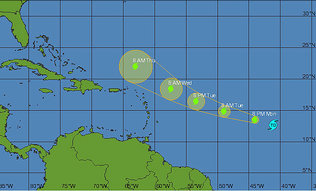 In the Western Hemisphere, the line of the aspect cuts through the far eastern coast of the United States, around Boston, then down through the Dominican Republic. It is especially strong in Venezuela and Colombia, in South America, places to watch. The U.S. National Hurricane Center announced the formation of a tropical depression which is apparently headed up the East Coast of the U.S., so the effects may be meteorological as well as political, at least in some parts.
But "the" story to watch for the Jupiter-Pluto aspect may be the question of whether a mosque will be built in New York City near the World Trade Center site. That issue is scheduled to reach a new peak today, as the city landmark commission is expected to unanimously reject landmark status for the building, opening up the possibility for renovations for the mosque.