popularity contests
17/Nov/10 15:36
With Venus about to go direct tomorrow at 4:19p EST, this is no time to be making moves if you are a prominent woman. But Nancy Pelosi will be re-elected as the Democratic leader in the House of Representatives, although this time around not as Majority Leader.
There was an attempt to delay the vote, but it failed, and Pelosi is more or less assured of winning the election today, although with quite a few dissenting votes. I'm reminded of Will Rogers' famous quip, "I'm not a member of any organized political party. I'm a Democrat."
Women are literally dominating the news these days, from the Florida woman who has a confirmed case of cholera to Meg Whitman.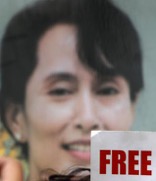 But other Venusian news out of Burma is more interesting and hopeful, as Aung San Suu Kyi was released last weekend after being under house arrest since late 2007. She has spent about 15 of the last 20 years under house arrest, and the reasons for her release are - as with everything in Burma - mysterious. Ms. Suu Kyi is already working on rebuilding her political party.