yikes!
08/May/10 10:40
The stock market tumbled this week, putting some indexes in the red for the year. Why?
Well, the Euro crisis, stemming from the economic problems in Greece, the first of the PIGS to really go bust, certainly had an effect. (PIGS are Portugal, Greece, Spain... and no one seems sure which Eurozone "I" country rounds out the group... Ireland? Italy?).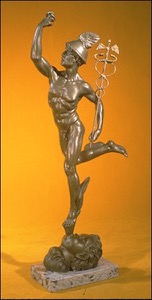 But it seems possible that electronic trading programs were the culprits, at least to an extent.
Click here for a New York Times article on this
. No one is really sure. There seems to be some possibility that automatic programs with sophisticated algorithms may have overreacted to conditions. It is, in some ways, similar to what happened in 1988, when the stock market tumbled.
With Mercury retrograde, it sounds about right that a monkey may have gotten into the feedback loop and caused the selloff. This has been something of a bear of a retrograde, anyway. Perhaps that's because this particular three week period is coming just before the big changes in late May and June.
But with the Messenger retrograding, we may never know.